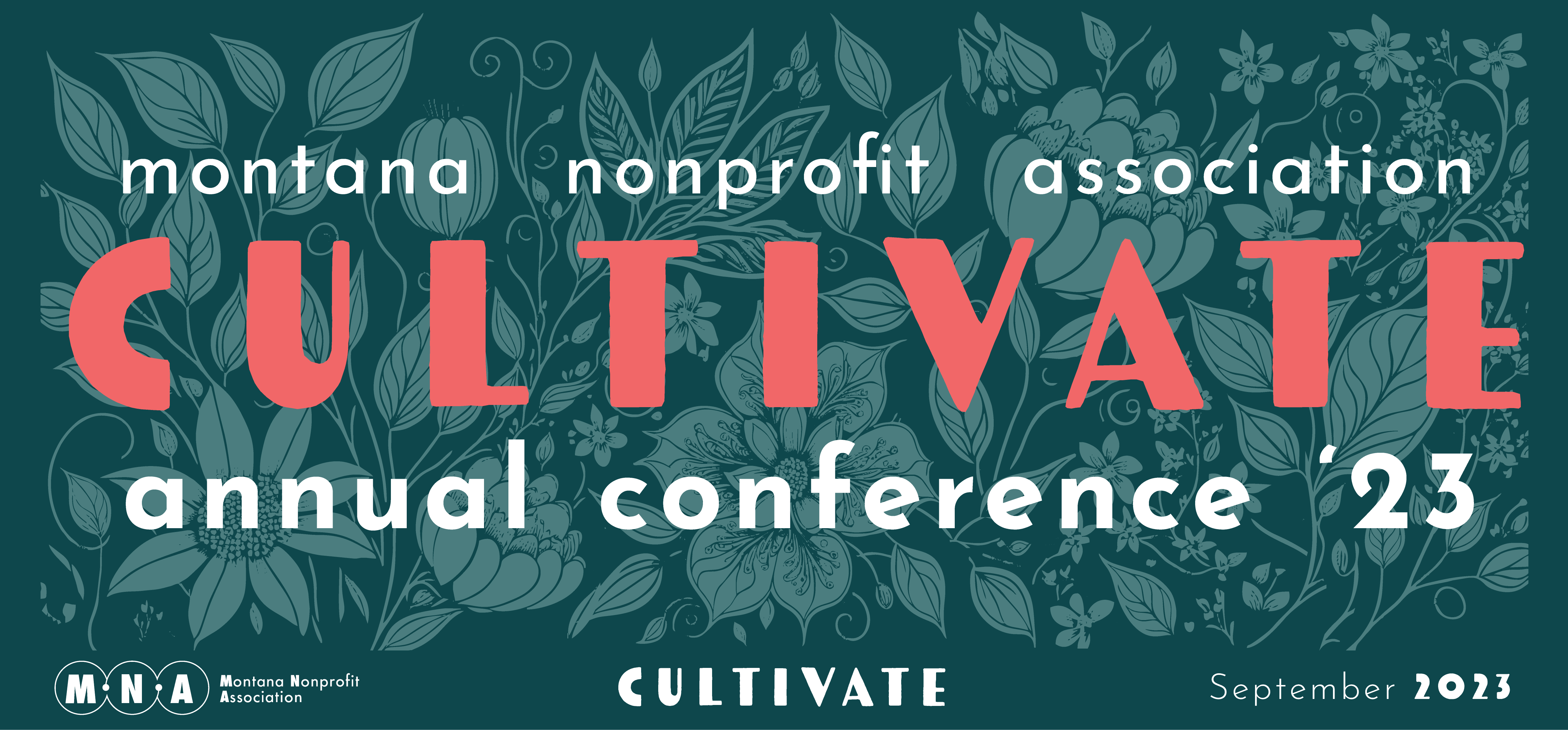 2023 Annual Conference
Missoula
September 19th – 21st
Online
September 26th – 28th
Cultivation is the process of intention, growth, renewal, and transformation. By focusing on the essentials, we create space for big things to thrive.
This year's conference invites participants to consider all the ways in which we cultivate our organizations for the future, from investing in employees and processes to tending supporters, centering those we serve, and making time for rest.
What can we cultivate together this year?
---
Pricing:
Whole Org options
whole org Online Only
Your whole team gets access to 2 inspirational online keynotes and over 20 breakout sessions.
Earlybird price:
Members: $300
Non Members: $600
After August 31:
Members: $360
Non Members: $720
whole org Online + 1 In Person
Your whole team gets access to the virtual portion of the conference, plus you can send one team member to Missoula for deeper learning and networking.
Earlybird price:
Members: $500
Non Members: $1000
After August 31:
Members: $600
Non Members: $1200
Individual options
individual Full Conference
Flying solo? Individual access to the virtual portion of the conference, plus a ticket to the Missoula Conference, Sep 20-21st.
Earlybird price:
Members: $250
Non Members: $500
After August 31:
Members: $300
Non Members: $600
Add Ons:
Additional In Person Ticket (with purchase of Whole Org Pass): $200
After August 31: $240
Deep Dives!
In-person, full day workshop in Missoula, September 19.
$95 / person
After August 31: $114
Scholarships available for MNA Members, Americorps Members, and Students
All Access Pass Holders with conference option can purchase in-person tickets at $170/person
---
Keynote Speakers:

Donna Murray-Brown
In Person Keynote | September 20
Donna Murray-Brown is the inaugural Vice President of Strategy and Development of the National Council of Nonprofits. In her new role, Donna will lead the growth of NCN's core resources through practical and impactful strategic initiatives that integrate the knowledge, policy, and advocacy competencies and support the network in advancing those strategic initiatives.

Liz Moore
In Person Keynote | September 21
Liz has been the Executive Director of Montana Nonprofit Association since 2011, after 20 years serving in various roles in the nonprofit sector. She also currently serves as the board chair for the National Council of Nonprofits. The depth of her expertise in the nonprofit sector is matched by her wisdom, humility, and passion for advancing the common good.
Liz's keynote will address her experience in growing leadership and stronger organizations, providing essential strategies to nurture leadership skills and create robust and sustainable nonprofit entities.

Kelly Davis & Daisy Rosales
Online Keynote | September 27
Daisy Rosales is the Co-Founder and ED of Brio. Kelly Davis is the Vice President of Peer and Youth Advocacy at Mental Health America. Individually, Daisy and Kelly have worked within their respective spheres to amplify mental health and organizational design nationally and globally through board service, research, writing, and speaking. They've both been recognized by organizations such as Yale University, Rockefeller Foundation, NPR, and the New York Times for their writing and thought leadership. Together, they wrote the first article in Stanford Social Innovation Review's series on mental health.
Kelly and Daisy's keynote will explore the imperative of addressing mental health in the nonprofit sector. From dismantling self-sacrificial norms to fostering self-inclusion, their keynote will explore how embracing mental well-being can catalyze meaningful social change and create a more compassionate and inclusive society for all.

Steve Patty
Online Keynote | September 28
Steve Patty is a teacher, consultant, author, and conference speaker. He leads Dialogues in Action, a consulting firm dedicated to helping people and organizations evaluate their impact, multiply their influence through leadership, and design strategies to make progress on their mission.
In his virtual keynote, Steve will guide us in Cultivating Impact within our communities and organizations, showing us how to sow the seeds of transformation and reap the rewards of positive change.
Dive Deep
Jumpstart your conference learning on September 19 with our Deep Dive add-on option for just $95.
---
Thank you to our sponsors:
Associated Employers | Cascadia Management | First Call Computer Solutions | Echo Ventures | Northwestern Energy | UM Department of Public Administration and Policy | Your Part Time Controller | 100 Degrees Consulting | SG Long Financial | Strategic Tax Planning | UM Office of the President